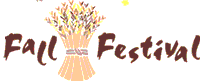 September 15, 2019
September 15, 2019
This is our day to SHINE!
Let's make it better than ever!
Make something to donate!
Buy something to donate!
Invite someone!
or
Invite everyone
you know!
Postcards and flyers are available at church for you to give to your people!
Bring your lawn chairs for more comfortable seating at the auction!
Schedule of Events
Sunday, September 15
10:00am     Polka Worship Service w/Communion
                   Hog Roast following the worship service (served until 1:00pm)
1:00pm       Live Auction